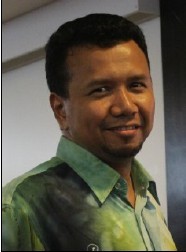 Assoc. Prof. Jamaluddin Mahmud,
Universiti Teknologi MARA, Malaysia
Assoc Prof Dr Jamaluddin Mahmud is a senior member (SM) of IACSIT (80343528) and a member (M) of IAENG (118142). He is currently an esteemed member of the panel of judges for the Crown Prince CIPTA Award (CIPTA 2013) Brunei Darussalam and International Invention, Innovation & Technology Exhibition (ITEX) since ITEX 2012. His academic pursuit has led to a PhD degree in (Biomechanical) Engineering from Cardiff University UK, an MSc (Manufacturing) Engineering degree from International Islamic University, Malaysia (IIUM) and a B.Eng. (Hons.) Mechanical Engineering degree from Universiti Teknologi MARA (UiTM). He obtained his PhD in less than 3 years and for that, he has been regularly invited to share his PhD study experience. He joined the Faculty of Mechanical Engineering UiTM as a lecturer in 2001, and currently an Associate Professor and a Deputy Dean. He has three years of industrial experience, working as a service engineer at UMW Equipment Sdn. Bhd. Dr. J Mahmud has been lecturing on Biomechanics, Composite Materials, Finite Element Method, Manufacturing Processes and Product Design, which happens to be his areas of research interest and has published more than 80 technical papers in journals and conference proceedings locally and internationally. Due to his expertise and experience, he sits in many committees, editorial boards, training groups and evaluating teams in various events at national and international level. Due to his active exploration on the new application of motion capture system, a paper entitled 'Using motion capture and analysis to explore the mechanical properties of human skin in-vivo' has been invited by IMechE, UK for presentation at the IMechE Medicine and Health Division Meeting: 15 October 2009.