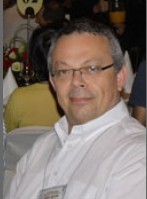 Prof. Alexander Balinsky
Cardiff School of Mathematics, Cardiff University, UK
James K. Ho is a professor of information & decision sciences in the College of Business Administration at the University of Illinois at Chicago. He graduated from Columbia University in 1970 and obtained his Ph.D from Stanford University in 1974. He has published widely in academic and professional journals and authored four books.
Dr. Ho has extensive experience working with international organizations, major corporations, as well as small businesses in the application of information technology in the workplace. His executive seminars on "Competing in the Information Age: Maximizing the Payoff from Information Technology", "Internet Strategies: Beyond Web Sites and Home Pages", and "Managing e-Commerce and Online Business" have been presented in USA, Canada, France, Hong Kong, New Zealand, Norway, and Singapore.
On June 29, 2012, Dr. Ho received the Best Professor in Information Systems 2012 Global Award from the World Education Congress.